<![if !vml]>

<![endif]>
Conference spaces
Hosted by
<![if !supportEmptyParas]> <![endif]>
<![if !vml]>

<![endif]>
Sponsors and partners

<![if !vml]>

<![endif]>

<![if !vml]>

<![endif]>

<![if !vml]>

<![endif]>

<![if !vml]>

<![endif]>
<![if !supportEmptyParas]> <![endif]>
ISMIR 2002
3rd International Conference on
Music Information Retrieval
IRCAM – Centre Pompidou
Paris, France
October 13-17, 2002
CONFERENCE SPACES
The ISMIR Registration Desk is in the IRCAM building. It will be open Sunday 1pm-6:30pm, and on the remaining days from 9am on. Here is a closeup of the neighborhood. Note that the darker orange streets are pedestrian-only.
<![if !vml]>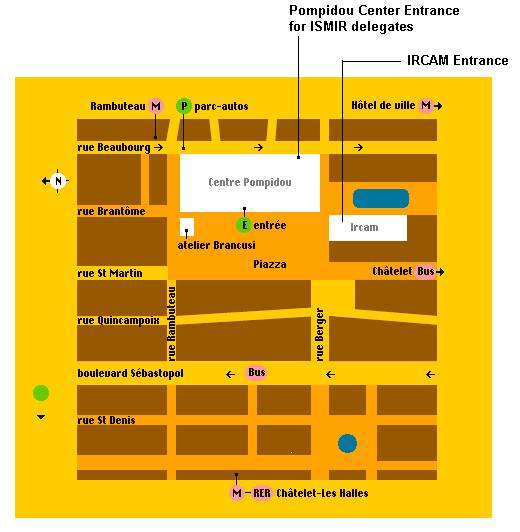 <![endif]>
Here is the map for the ground floor of IRCAM, which shows where the ISMIR Registration Desk is:
<![if !vml]>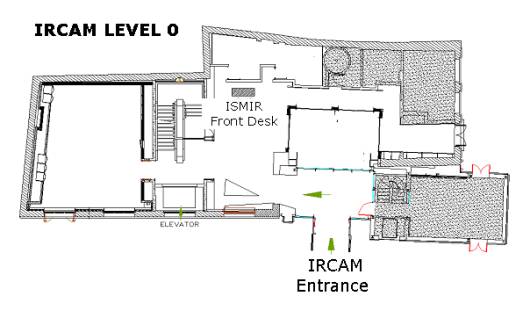 <![endif]>
At registration, you will be provided with a brochure containing a map of all the conference spaces and how to reach them.
<![if !supportEmptyParas]> <![endif]>